Trying something new this week with So What Wednesday. I've seen my friend
Laura
doing it in the past and could never think of anything to write, but this week it's different. Enjoy!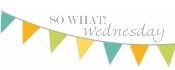 …if I've been watching episode after episode of One Tree Hill every night for the past week.
…if I've been packing on the weight and not doing a damn thing about it.
…if I make the "because I'm crazy/have mental health issues" excuse when people ask me why I don't drink anymore.
…if I'm missing half of this month at work.
…if I am stoked about the rain we've been having and wish it would pour every day.
…if I cannot stop itching my left leg to do some horrid sunburn.